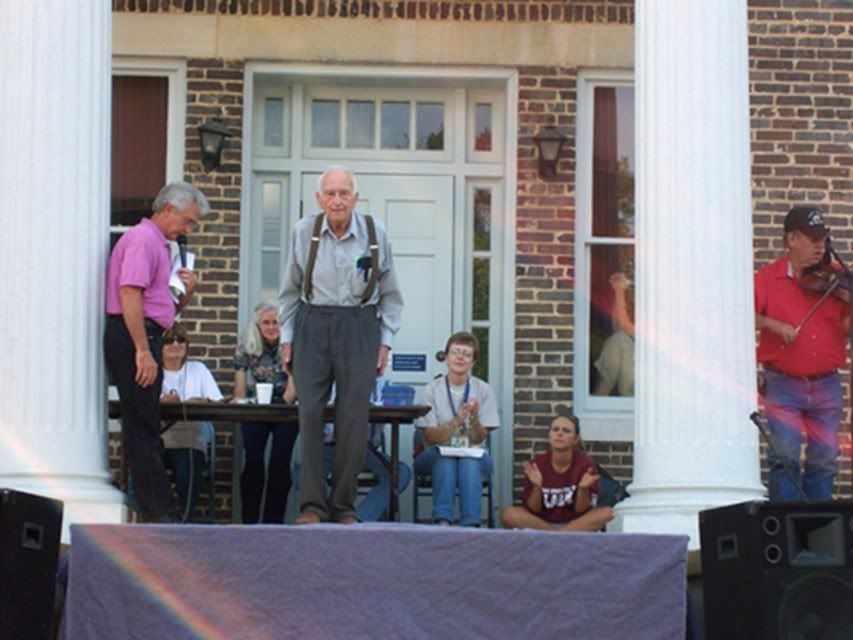 October is a busy time of the year around this part of the country. October is when the temperature starts cooling down and we have some nice fall days to enjoy. Lots of outdoor events are scheduled in October and I, like most people around here, plan to take the time to enjoy the pleasant fall weather.
That being said, I didn't get much done on the banjo this week. Instead of working on the banjo I went to the 41st annual Tennessee Valley Fiddlers Convention, held on the campus of Athens State University. 15,000 people were expected to attend.
Joyce & Jim Cauthen performing with Flying Jenny.
Amy and I arrived on Friday afternoon. In every nook and cranny of the campus there were string bands playing or groups of people jamming. There were vendors, crafts, and a sea of people. Amy and I were completely overstimulated. It took at least half an hour to get acclimated to it all.
Eventually we made our way to the main stage. The stage was the large front porch of what I believe to be the president's mansion. There, performers competed in different categories, such as "old time banjo," "old time singing," "bluegrass band," etc. The convention lasts from 8:00 a.m. until at least midnight Friday and Saturday. To the left is Charlie Hunter.
Amy and I watched the bluegrass banjo competition for a bit, then decided to just wander around, since most of the energy seemed to be concentrated away from the stage.
While walking around watching impromptu jams and string bands, we happened upon the Kudzu String Band playing for a group of Buckdancers. Energy sizzled from each and every person playing and dancing in that little corner. Everyone around that area was bursting with excitement and ready to GO!!! Every type of person was there, in every age group, from 9 to 96. Everyone was welcome. It was a powerful and moving experience.
Eventually the Kudzu String Band wrapped it up, and everyone slowly dispersed. As the man in the photo dancing passed by, I patted him on the back and said, "that was great." He looked at me with wild eyes and a big grin on his face and said, "you can't buy this, it's free," and walked away.
And that was it. We left the buckdancers. We walked around, watched more great bands, heard more great music, had a wonderful time, enjoyed each and every second, but nothing quite hit me as hard as that experience, and the words "you can't buy this, it's free."
For me, it gets to the heart of it all. It's free. It's homemade. It's playing and singing and interacting with others. It's interacting with your community. It's being a part of something larger that yourself, and it's open to everyone.
That buckdancer reminded me of something else, also. He reminded me of something Mike Seeger said in the film HOMEMADE AMERICAN MUSIC. He said, "now, instead of fiddling, storytelling or unaccompanied singing around the home, most people's musical lives are dominated by big business through t.v. and radio."
Inspired by the words of Mike Seeger and our buckdancing friend, Amy and I have invited a few friends over to the house on Sunday to get together and play music, in hopes of creating our own little community. Amy plans on making an apple pie, and I think that I'll make some chili since the weather is cooling down. It's important to be a part of a community, and I hope that this will be something that we can all enjoy, share, and grow with over the years.
Sometimes you find the most powerful messages in the simplest places.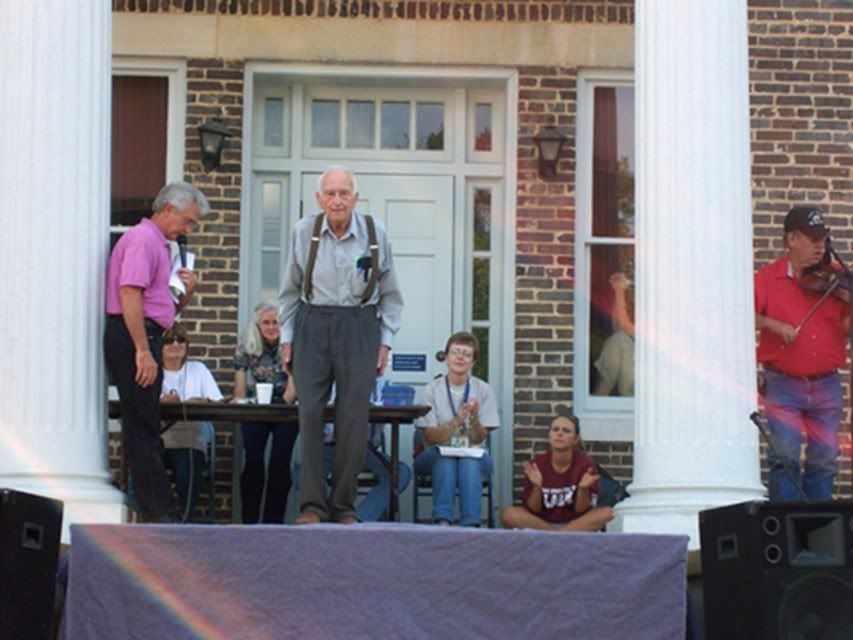 Mr. Dudley, 96 year old buckdancer.