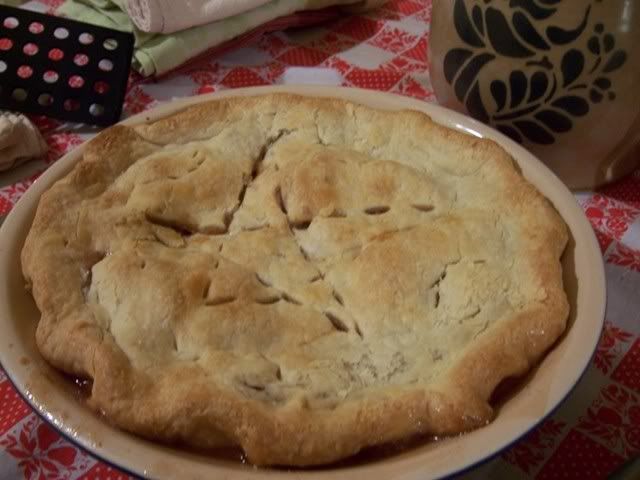 Here is a photograph from our Sunday folk gathering, which will be called Second Sunday from here on out. I had a great time. Amy made a beautiful apple pie. The guests were: Ben,
who
brought the heart and soul, and played a mean washboard. Zane, who brought a truckload of knowledge, Heidi, who brought a beautiful
accordion
, which she will be playing very soon. Ian, who brought his new-to-him Harmony
arch top
, scales, and the Leadbelly songbook. Rachel, who brought a smile and more encouragement than is safe for any of us, and Elizabeth, Zane and Heidi's friend from New Orleans, who was nice enough to put up with our shenanigans. We're going to have to work on her a bit to convince her to drive all the way up for the next Second Sunday. Maybe if we
promise
to practice....
It has been a very hectic week, but I ended up getting more done on the banjo than I thought that I would. I redesigned the clamp that secures the pot during the gluing process. I feel much better about this clamp.
To the left is a photo of my old clamping system. The clamp was held together by eight bolts. When in use, the pressure was so great that it snapped the bolts in half after every few pots. Also, the pressure was slightly uneven, so it was easy for a pot to get slightly out of round.
To the left is a photo of my new clamping system. I built the new clamp from two 5.5" and two 6" T-bolt clamps around a metal strap, cut to length. The strap doesn't look strong enough to handle the pressure, but it feels strong, and there are four pressure points, which will help distribute pressure. So far the clamp has worked perfectly. So, as long as it can continue to handle the pressure, we're in business.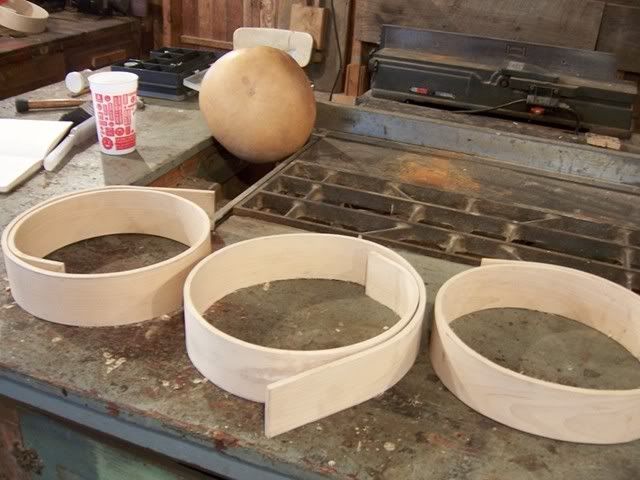 Here is a photo of the wood to be used for the pot. These three pieces have been steam bent, left on the form to dry, then removed. Next I cut the three pieces of 1/4 " maple to length using a tapered cut on the joints.
Next I glue the three pieces and place them into the clamp. I let the pot dry overnight.
And here is the finished pot.
I also cut the grooves into the fretboard (below). My last fretted banjo used modern
sized banjo
fret wire
. After playing the
fretless
, I've been wanting to scale down a bit (sorry) and experiment with thinner mandolin
fret wire
, which may not even work. Never know until you try, right?